DY-X101 CAST REPAIR ADHESIVE
Specifications :
500g/pair; 16pairs/big box
1. Properties
DY-X101 CAST REPAIR ADHESIVE is a two-component paste form adhesive for cast iron repair. It can be applied at low temperature and humid condition and has good workability. It has not only high adhesion strength with metal, but also corrosion-resistance, wearability and anti-aging durability. In addition, it has high hardness, mechanical strength, and no shrinkage. Its color is well compatible with materials to be repaired. It can fully meet the requirements of JB/T10283-2008.
2. Applications
DY-X101 CAST REPAIR ADHESIVE is used to repair and fill defects and abrasion of pumps, valves, and boxes like casting porosity, shrinkage, and cracks which are large than 2mm.
3. Directions
1)Clean oil, corrosion rust, dusts on the surface to be bonded, and the surface has to be roughed. The crack has to be formed in V form and its depth must be larger than 1 mm. Then clean it again with alcohol to increase repair strength and effect.
2)Apply A and B components according to PDS and mix it until the color becomes uniform.
3) Apply the mixed adhesive onto the surface and press it repeatedly for the adhesive to get good adhesion. The adhesive should be out of the crack for further work.
4) In case of low temperature, heat it up to 40-80°C. The higher the temperature, the quicker it cures.
5) It can mechanically work after full cure.
4. Parameters
Before curing

After curing

color

Density
GB/T13354-1992g/cm3

Tensile strength
GB/T1041-1992/
MPa

Tensile strength
GB/T7124-1996/
MPa

Lap shear strength
GB/T6329-1996/
MPa

Bending strength
GB/T9341-2000/
MPa

Hardness(shores)
GB/T2411-1990 Shore D

Working temperature ℃

Iron gray

2.30

79

37

20

488

82.7

-60—176

Mixing ratio and cure time(15℃-30℃)

Work time(minute)

Initial cure time(hour)

Machinable time
(hour)

Time to load(hour)

Fully cure time(day)

summer

winter

Summer

Winter

20

40

2

6

10

24

3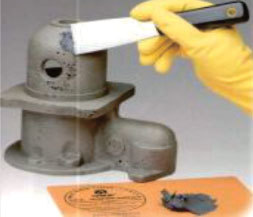 PRODUCTS RECOMMENDED
---
They develop into seven series such as Epoxy AB Glue, Modified-Acrylic AB Glue, Threadlocker, Gasket Maker, MS Sealant, No More Nails Glue,
502 Super Glue with more than three hundred varieties of products.